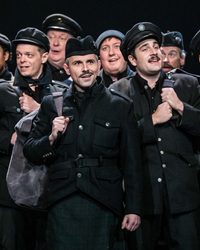 "All is Calm"
When
Occurs on Tuesday December 20 2022
Approximate running time: 1 hour and 30 minutes
Venue
Webb Center
1090 S. Vulture Mine Road
Wickenburg AZ 85390
Event Notes
×
Tickets: Seating Level A (Orange) $50, Seating Level B (Green) $45, Seating Level C (Purple) $40
The Western Front, Christmas, 1914. Out of the violence, a silence, then a song. A German soldier steps into No Man's Land singing "Stille Nacht." Thus begins an extraordinary night of camaraderie, music and peace.
Performance Sponsors: Dita & John Daub; Dianne & Pete Emond; Emily Hobrock Rogers & Michael Rogers