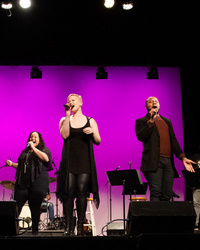 "100 Years of Broadway"
When
Occurs on Sunday February 27 2022
Approximate running time: 2 hours
Venue
Webb Center
1090 S. Vulture Mine Road
Wickenburg AZ 85390
Event Notes
×
Tickets: Seating Level A (Orange) $57, Seating Level B (Green) $52, Seating Level C (Purple) $47
This concert celebrates the finest moments from the greatest Broadway musicals of the past century, including show-stopping numbers from
Les Miserables, My Fair Lady, Chicago
and more!
Performance Sponsors: Comegys Bight Charitable Foundation, Drs. Tom and Ginger Collier, Officers
COVID-19 Safety ProtocolsThe Webb Center is committed to providing healthy and safe facilities for audiences, artists, volunteers and staff. Be assured that all decisions regarding the necessary protocols and policies for the health and safety of our guests will be guided by medical and public health advice on the date of the performance.

Effective October 27, 2021, all adult audience members (12 and older) are required to provide a photo ID and proof of full vaccination status OR proof of a negative COVID-19 PCR test taken within 72 hours of the event upon entry into the venue. Masks are highly recommended for adults and are required for youth 12 and under.

By adhering to our COVID-19 safety protocols you are supporting performing artists and allowing us to continue presenting live events. You help keep our patrons and staff healthy so we can continue this important work. We appreciate your support! All staff, vendors, and volunteers of the Webb Center are fully vaccinated and will wear masks while on premises. Click here for policy details. We will continue to update our website as more information becomes available.