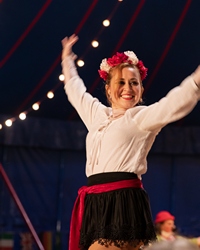 Zoppe - Italian Family Circus
When
Runs from Saturday December 14 2019 to Sunday December 15 2019
Approximate running time: 2 hours
Venue
Performance Notes
×
La Nonna
Experience the magic of one of the oldest circuses in the world! Back with a
NEW SHOW
, the Zoppé Italian Family Circus celebrates and honors the value and strength of women in the circus. Awe-inspiring female performers enthrall audiences with traditional Old World circus arts including acrobatics, equestrian feats, tightrope walking and comedic clowning. Touring with an intimate 500-seat tent, no one is more than 20 feet from the ring.
Performance Partner: Rancho Rio Arena
Performance Sponsors: Darlene & Tom McCLoud
Advance Tickets General Admission:
$25 adults; $15 children (18 & under)
VIP First Row Seating:
$40 adults; $30 (18 & under)
VIP Second Row Seating:
$35 adults; $25 (18 & under)
Door Sale Tickets:
+$5 All Seats
All door sales and onsite concessions will be CASH ONLY. Please plan accordingly.