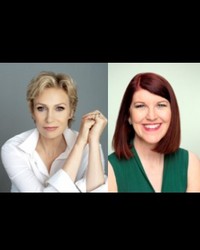 "Two Lost Souls"
When
Occurs on Friday November 22 2019
Approximate running time: 2 hours
Venue
Webb Center
1090 S. Vulture Mine Road
Wickenburg AZ 85390
Performance Notes
×
Jane Lynch & Kate Flannery: Two Lost Souls
Tickets: Seating Level C (Purple) $55, Seating Level B (Green) $60, Seating Level A (Orange) $65
Dynamic duo Jane Lynch and Kate Flannery will fill the Webb Center with music and laughter during their one-of-a-kind comedy and cabaret style performance.
Glee's
Jane Lynch and
The Office's
Kate Flannery entertain with a perfect combination of comedic timing, singing chops and witty banter, putting their spin on songs from Broadway to the Swingin' Sixties. These two comediennes promise a nightclub act "like the Rat Pack but with a couple of broads."
Performance Sponsors: Lynn & Dave Tagge