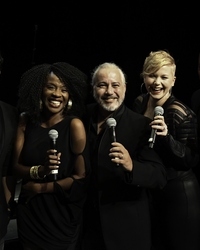 "50 Years of Rock & Roll"
When
Runs from Thursday March 7 2019 to Thursday March 7 2019
Approximate running time: 2 hours and 10 minutes
Venue
Webb Center
1090 S. Vulture Mine Road
Wickenburg AZ 85390
Performance Notes
×
Tickets: Seating Level C (Purple) $40, Seating Level B (Green) $45, Seating Level A (Orange) $50
Composer and producer Neil Berg pays tribute to the genre that changed music forever: from the birth of rock and roll in the 1940s, through the glory years of the '50s, '60s, and '70s, to the MTV craze of the 1980s. Direct from New York, five talented vocalists and an all-star band bring you rockin' performances of classics and little-known stories behind them. Enjoy hits such as Chuck Berry's "Johnny B. Goode," Elvis Presley's "Hound Dog," Simon and Garfunkel's "Bridge Over Troubled Water," and favorites from The Beatles, Bob Dylan, Aerosmith, and Bruce Springsteen.
Performance Sponsor: Ron Badowski
Beer and wine will be available 1 hour prior to curtain and during intermission for this performance.
Click here to watch a promotional video of this production.