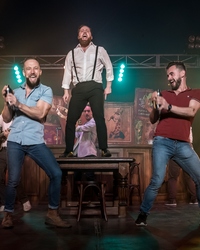 Choir of Man
When
Occurs on Tuesday February 12 2019
Approximate running time: 2 hours
Venue
Webb Center
1090 S. Vulture Mine Road
Wickenburg AZ 85390
Performance Notes
×
Tickets: Seating Level C (Purple) $60, Seating Level B (Green) $65, Seating Level A (Orange) $70
The runaway hit of numerous international music festivals is hitting the road for its first U.S. tour! This production is unadulterated entertainment that combines live music and foot stomping choreography. Discover the incredible talent of nine ordinary blokes who perform everything from sing-along classics to rock, pop and opera. Set in an English pub with a real working bar, it's a pint-filled good time that combines hair-raising harmonies, high-energy dance, and live Percussion.
Performance Sponsor: Sonya Rensch
Beer and wine will be available 1 hour prior to curtain and during intermission for this performance.
Click here to watch a promotional video by Choir of Man.