Nat Geo Live: "Reimagining Dinosaurs" Tuesday February 23 2021 at 5:00 PM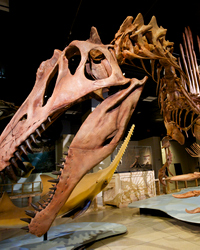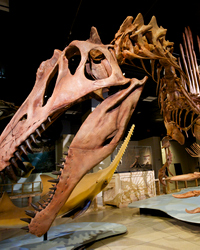 You've selected
Tuesday February 23 2021 at 5:00 PM
×
National Geographic Live: "Reimagining Dinosaurs" with Nizar Ibrahim & Sebastian Rozadilla
Groundbreaking new science is changing what we thought we knew about how dinosaurs looked, moved, and lived. From newfound fossil troves in the Moroccan desert to recent discoveries in Chile, scientists are still learning about these long extinct creatures. Join leading paleontologists Nizar Ibrahim and Sebastián Rozadilla for a startling look at new research and a dynamic discussion about the evolving science of dinosaurs.
Paleontologist, anatomist, and National Geographic Explorer Nizar Ibrahim has unearthed spectacular dinosaur bones, rare fossil footprints, huge prehistoric fish, ferocious crocodile-like hunters, giant flying reptiles, and the largest predatory dinosaur known. Born in La Plata, Argentina, from an early age Sebastián Rozadilla had a fascination with nature. He is currently pursuing his doctoral thesis on bird evolution while exploring the continent in search of new fossil remains.
The 60-minute virtual event will include short pre-recorded stories and live, moderated conversations with opportunities for audience Q&A.
To attend this virtual event please reserve your ticket by clicking the Buy Tickets button. Only one ticket per household is needed for viewing. Tickets cost $20 per National Geographic Live event or SAVE 25% by purchasing the 5-Event Speaker Series Package for $15 per event.


Audience members will receive further instructions on how to access the broadcast prior to the event in a separate email from the Webb Center. Please be aware that these events will happen in real time and are not available afterwards on demand or for replay.

*There is a $5 Virtual Program Delivery Charge per ticket whether purchased online or by phone.
Venue
Webb Center
1090 S. Vulture Mine Road
Wickenburg AZ 85390
Performance Notes
Virtual Broadcast Event 5:00 PM MST
Purchase an individual ticket to this event for $20
or SAVE 25% by purchasing tickets to all 5 National Geographic Live events for $15 each.