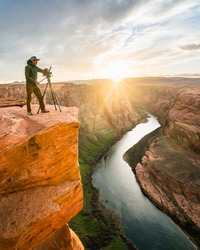 Nat Geo Live: "Feats of Filmmaking"
When
Occurs on Tuesday March 16 2021
Approximate running time: 1 hour
Venue
Webb Center
1090 S. Vulture Mine Road
Wickenburg AZ 85390
Event Notes
×
National Geographic Live: "Feats of Filmmaking" with Bryan Smith & Keith Ladzinski
Meet two filmmakers renowned for capturing extreme feats of adventure in some of the world's most remote and inhospitable environments. Bringing stories of adventure to the screen from the South Pacific's deepest canyons to the frozen waters of Niagara Falls and taking on the seemingly impossible, these filmmakers reveal how they document the endeavors of the world's most elite adventurers.
With a knack for storytelling, an ability to get cameras into difficult and remote locations, and an insane work ethic, Bryan Smith has received acclaim for his amazing kayaking footage and insightful exploration of river-based energy production. Fusing his love of skateboarding in New York City and exploring the quiet mountains of Colorado, Keith Ladzinski's work focuses on natural history, climate change, and extreme sports.
Go behind the scenes during this 60-minute virtual event which will include short pre-recorded stories, a live, moderated conversation and audience Q&A.
To attend this virtual event please reserve your ticket by clicking the Buy Tickets button. Only one ticket per household is needed for viewing. Tickets cost $20 per National Geographic Live event or SAVE 25% by purchasing the 5-Event Speaker Series Package for $15 per event.


Audience members will receive further instructions on how to access the broadcast prior to the event in a separate email from the Webb Center. Please be aware that these events will happen in real time and are not available afterwards on demand or for replay.

*There is a $5 Virtual Program Delivery Charge per ticket whether purchased online or by phone.