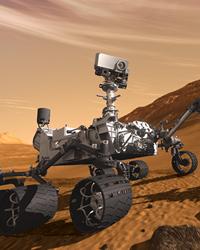 Nat Geo Live: "Life on Other Worlds"
When
Occurs on Tuesday January 19 2021
Approximate running time: 1 hour
Venue
Webb Center
1090 S. Vulture Mine Road
Wickenburg AZ 85390
Event Notes
×
National Geographic Live: "Life on Other Worlds" with Kobie Boykins & Kevin Hand
How close are we to discovering life on other planets? NASA's latest rover will land on Mars in 2021 to search for signs of ancient life. Jupiter's moon Europa is home to a vast subsurface ocean, which could sustain primitive life forms nearly 600 million miles from Earth. Join two of NASA's leading researchers as they share cutting-edge technology and up-to-the-minute information about their exploration for answers.
Kobie Boykins, a mechanical engineer at NASA's Jet Propulsion Laboratory (JPL) in California, has worked on breakthrough projects from the Pathfinder mission to the Mars Exploration Rovers discovering the vast frontiers of space. Kevin Peter Hand, a planetary scientist and astrobiologist at JPL, has worked from the depths of Earth's oceans to the summit of Kilimanjaro in search of answers.
The 60-minute virtual event will include short pre-recorded stories and live, moderated conversations with opportunities for audience Q&A.
To attend this virtual event please reserve your ticket by clicking the Buy Tickets button. Only one ticket per household is needed for viewing. Tickets cost $20 per National Geographic Live event or SAVE 25% by purchasing tickets to the 5-Event Speaker Series Package for $15 per event.


Audience members will receive further instructions on how to access the broadcast prior to the event in a separate email from the Webb Center. Please be aware that these events will happen in real time and are not available afterwards on demand or for replay.

*There is a $5 Virtual Program Delivery Charge per ticket whether purchased online or by phone.