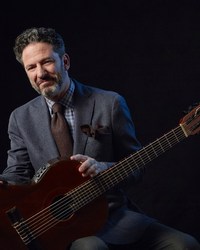 John Pizzarelli Trio
When
Occurs on Thursday March 28 2019
Approximate running time: 1 hour and 50 minutes
Venue
Webb Center
1090 S. Vulture Mine Road
Wickenburg AZ 85390
Performance Notes
×
Tickets: Seating Level C (Purple) $40, Seating Level B (Green) $45, Seating Level A (Orange) $50
Award-winning guitarist John Pizzarelli has established himself as one of the prime interpreters and revivalists of the Great American Songbook, bringing to his work a cool jazz flavor. The son of famed guitarist Bucky Pizzarelli, John has cultivated an international career by singing classic standards and late-night ballads. With a knack for up-tempo swing and a charming stage presence, John and his trio bring new life to Nat King Cole's iconic songbook.
Performance Sponsors: Dave & Lynn Tagge
Click here to watch a video of John Pizzarelli.