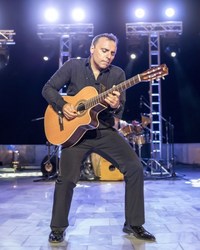 Pavlo
When
Occurs on Saturday February 16 2019
Approximate running time: 1 hour and 30 minutes
Venue
Webb Center
1090 S. Vulture Mine Road
Wickenburg AZ 85390
Performance Notes
×
You are invited to the 6th Annual
Find Your Center Gala
Starring Pavlo
Pavlo's distinctive melodies and unmatched guitar skills create a signature Mediterranean sound; incorporating the exotic rhythms that are a blend of Greek, flamenco, Latin and even Balkan flavors, wrapped in contemporary pop. Touring with his band, Pavlo is currently promoting his second PBS special Live in Kastoria with a sizzling instrumental show, melodically uniting fiery world tempos while staying true to his signature guitar sound.
Festivities begin at 6:00 PM
Silent Auction – Robust Hors d'oeuvres – Open Bar
Prize Drawings Throughout the Evening
Tickets $100 | $115 | $125
Proceeds benefit the Webb Center - After-Five Attire
Performance Sponsors: John & Dita Daub, Tom & Betty Watt, Dave & Lynn Tagge
Click here to watch a video starring Pavlo.